For parents who have said goodbye to a beloved child this time of year can be especially difficult. The loss of a child is every Mum and Dad's worst nightmare. Family and friends try to understand, and indeed are going through their own grieving process, but the only person who can really understand this loss is someone who has experienced the death of a child.
To support parents after bereavement, Anam Cara Parent Bereavement Group takes an all-inclusive universal approach, that will appeal to everyone who has lost a child and provides an opportunity for bereaved parents to talk about their loss in a safe non-judgemental environment.
Anam Cara are hosting an online bereavement information and support evening this Wednesday 12th January from 7 pm to 8.30 pm. Please see details below to register.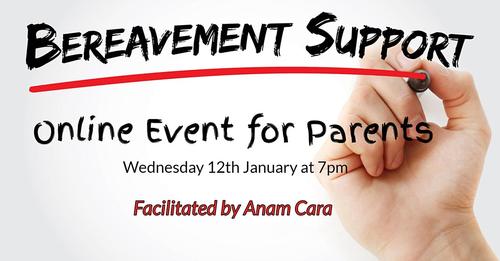 Register at: https://www.eventbrite.ie/e/january22-online-bereavement-information-and-support-evening-for-parents-registration-239183593567